www.wineandculinary.com
Charlottesville Wine & Culinary 434-974-7444
© 2016 Charlottesville Wine & Culinary - All Rights Reserved.
COMMUNITY COOKING CLASSES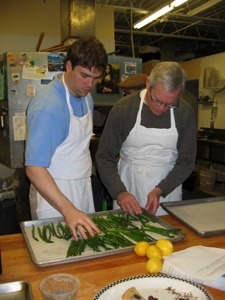 Terre Sisson of Charlottesville Wine & Culinary and Jim Winecoff of Mona Lisa Pasta have teamed up to bring community cooking classes to the Charlottesville area.
Come..learn..taste..enjoy yourself in a relaxed environment. Upon arrival you will be served a light appetizer to take the edge off your hunger. A light meal of all the savory preparations will be served along with a complimentary beverage.
Jim Winecoff and Terre Sisson present classes geared to the home chef who wants to enjoy cooking more. We focus on fine home cooking techniques and timesaving tips with a gourmet flair.
Call us now at 434-295-2494 to reserve your space.
Classes are held at Mona Lisa Pasta, 921 Preston Avenue.
A light meal of the prepared dishes is served along with a complimentary beverage.
Upcoming Classes | Mona Lisa Pasta
WINTER 2019
January 16, 2019 Wednesday 7pm $68 Participation
START WITH A CHICKEN
Thai Peanut Soup with Crispy Chicken
Chicken Asparagus Salad
Grape Pickers Skillet
Roasted chicken, available at most markets is the starting point of all three dishes. We'll turn a chicken into three delicious meals while discussing the best ways to store and pull the meat, and how to turn the carcass into a wholesome broth.
February 12, 2019 Tuesday 7pm $68 Participation
A ROMANTIC DINNER
Salad of Beet Hearts, Blue Cheese & Crispy Leeks / Citrus Vinaigrette
Seared Salmon / Green Pea Puree
Salted Caramel Pots de Creme / Malted Cream
Won't you be my Valentine? This menu is designed to give Cupid a little help. Come to celebrate Valentine's with your sweetheart or to learn how to prepare the meal in your own kitchen on Valentine's Day.
March 5, 2019 Tuesday 7pm $68 Participation
MARDI GRAS PARTY
Fried Oyster Po-Boys
Red Beans & Rice with Andouille
Chef's Choice Bread Pudding & Sauce
We'll celebrate Fat Tuesday with these N'Awlins classics. Beads Welcomed!
Gift Certificates Available - call or email Terre
DETAILS
• Classes will be held at Mona Lisa Pasta 921 Preston Avenue Charlottesville, VA
• Class duration will be 2 to 3 hours.
• Classes are light participation format unless otherwise noted.
• Class reservations are accepted with full payment.
• Credit card information is required for phone reservations.
• Payment by check or cash can be made at Mona Lisa Pasta or via mail.
• We reserve the right to cancel any class due to insufficient enrollment. We will notify you, then
refund the fee or apply it to another class as you so choose.
• Class cancellations must be made at least two days prior to the scheduled date to receive a
refund of the class fee.
• The focus of the classes will be home cooking with gourmet flair.
• Topics will be geared to easily obtainable ingredients, techniques and tips for the home
kitchen, and professional presentation.
• Preparations will be of a complexity that will be welcoming to cooks of all knowledge levels.
• The community can look forward to special classes that feature guest chefs and food and wine
experts.
• NEW- Dinner Parties in your home