www.wineandculinary.com
Charlottesville Wine & Culinary 434-974-7444
© 2016 Charlottesville Wine & Culinary - All Rights Reserved.
COMMUNITY COOKING CLASSES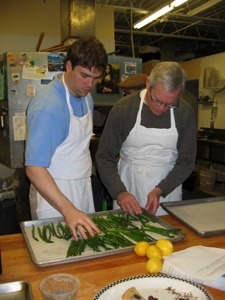 Terre Sisson of Charlottesville Wine & Culinary and Jim Winecoff of Mona Lisa Pasta have teamed up to bring community cooking classes to the Charlottesville area.
Come..learn..taste..enjoy yourself in a relaxed environment. Upon arrival you will be served a light appetizer to take the edge off your hunger. A light meal of all the savory preparations will be served along with a complimentary beverage.
Jim Winecoff and Terre Sisson present classes geared to the home chef who wants to enjoy cooking more. We focus on fine home cooking techniques and timesaving tips with a gourmet flair.
Call us now at 434-295-2494 to reserve your space.
Classes are held at Mona Lisa Pasta, 921 Preston Avenue.
A light meal of the prepared dishes is served along with a complimentary beverage.
Upcoming Classes | Mona Lisa Pasta
WINTER 2017
NOVEMBER 16, 2017 Thursday 7pm $68 Participation
LAMB SHANKS
Beet Salad with Chevre Mousse
Braised Lamb Shanks
Potatoes with Crumbs and Fried Sage
Chocolate Hazelnut Semifreddo
We'll roast up some beets then create a fantastic Fall salad. Perfectly braised local lamb shanks will be paired with crispy "not fried" potatoes. Semifreddo is like eating a half frozen delicious cloud.
December 4, 2017 Monday 7pm $68 Participation
WINTER FISH DINNER
Grilled Bread / White Bean Puree / Sauteed Greens
Grilled Whitefish with Parsley Pine Nut Sauce
Broccolini with Hazelnuts
Blood Orange Semolina Cake / Candied Orange Peel
This meal wouold be perfect for a Christmas Eve celebration. It's easy on the cook with a wintery bruschetta, simple fish sauce, orange peel that can be candied ahead, and an un-iced satisfying cake.
January 17, 2018 Wednesday 7pm $68 Participation
BEST BOLOGNESE
Artichoke Soup / Mint Gremolata
Bolognese Sauce with Spaghetti Noodles
Caramelized Pears / Mascarpone
This tangy sprite soup is perfect before a pasta dish. Everyone should know how to make a fantastic classic Italian Bolognese sauce. Pears that have been caramelized yet still have a firmness are more than delicious.
February 8, 2018 Thursday 7pm $68 Participation
CUPID IS READY
Chickpea & Shrimp Soup
Pork Tenderloin in a Spinach & Speck Jacket
Gratin of Zucchini & Tomato
Filomena's Apple Cake
"You had me at soup" is what you'll be saying after tasting this delicious concotion. Easy elegant main and side are the correct direction on Cupid's day. Impress your sweetie with a cake that looks like a flower and tastes even better.
DETAILS
• Classes will be held at Mona Lisa Pasta 921 Preston Avenue Charlottesville, VA
• Class duration will be 2 to 3 hours.
• Classes are light participation format unless otherwise noted.
• Class reservations are accepted with full payment.
• Credit card information is required for phone reservations.
• Payment by check or cash can be made at Mona Lisa Pasta or via mail.
• We reserve the right to cancel any class due to insufficient enrollment. We will notify you, then
refund the fee or apply it to another class as you so choose.
• Class cancellations must be made at least two days prior to the scheduled date to receive a
refund of the class fee.
• The focus of the classes will be home cooking with gourmet flair.
• Topics will be geared to easily obtainable ingredients, techniques and tips for the home
kitchen, and professional presentation.
• Preparations will be of a complexity that will be welcoming to cooks of all knowledge levels.
• The community can look forward to special classes that feature guest chefs and food and wine
experts.
• NEW- Dinner Parties in your home