www.wineandculinary.com
Charlottesville Wine & Culinary 434-974-7444
© 2016 Charlottesville Wine & Culinary - All Rights Reserved.
COMMUNITY COOKING CLASSES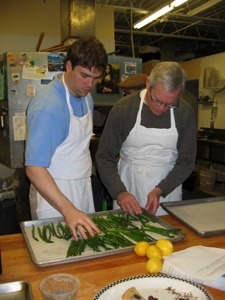 Terre Sisson of Charlottesville Wine & Culinary and Jim Winecoff of Mona Lisa Pasta have teamed up to bring community cooking classes to the Charlottesville area.
Come..learn..taste..enjoy yourself in a relaxed environment. Upon arrival you will be served a light appetizer to take the edge off your hunger. A light meal of all the savory preparations will be served along with a complimentary beverage.
Jim Winecoff and Terre Sisson present classes geared to the home chef who wants to enjoy cooking more. We focus on fine home cooking techniques and timesaving tips with a gourmet flair.
Call us now at 434-295-2494 to reserve your space.
Classes are held at Mona Lisa Pasta, 921 Preston Avenue.
A light meal of the prepared dishes is served along with a complimentary beverage.
Upcoming Classes | Mona Lisa Pasta
SPRING 2019
April 17, 2019 Wednesday 7pm $68 Participation
LEG OF LAMB
Spring Pea Soup with Ramps & Mint
Herbed Leg of Lamb
Crushed Griddled Bitty Potatoes
Southern Hummingbird Cake
Let's celebrate Spring offerings, and Easter Classics. We'll cook up some lamb from Jim's farm, very local and humane! The cake, a Southern specialty combines pineapple, pecans, and bananas for moist deliciousness.
May 15, 2019 Wednesday 7pm $68 Participation
EGGS FOR DINNER
Asparagus Quiche / Buttery Cracker Crust
Bibb, Quinoa & Egg Salad / Malt Vinegar Dressing
Southwest Shakshuka
Lemon Souffle / Strawberry Sauce
Eggs are delicious and economical anytime but we'll focus on dishes that make a satisfying dinner, and throw in an elegant egg based dessert. There's no meat or seafood here.
June 11, 2019 Tuesday 7pm $68 Participation
PIZZA PARTY
Making a Great Crust
Marinara Sauce
White Sauce
Topping Preparation
We'll cover everything bottom to top to make a great pizza. You'll leave knowing how to make and stretch a crust, how to make great sauces, and how to prep and pair toppings and cheeses.
Gift Certificates Available - call or email Terre
DETAILS
• Classes will be held at Mona Lisa Pasta 921 Preston Avenue Charlottesville, VA
• Class duration will be 2 to 3 hours.
• Classes are light participation format unless otherwise noted.
• Class reservations are accepted with full payment.
• Credit card information is required for phone reservations.
• Payment by check or cash can be made at Mona Lisa Pasta or via mail.
• We reserve the right to cancel any class due to insufficient enrollment. We will notify you, then
refund the fee or apply it to another class as you so choose.
• Class cancellations must be made at least two days prior to the scheduled date to receive a
refund of the class fee.
• The focus of the classes will be home cooking with gourmet flair.
• Topics will be geared to easily obtainable ingredients, techniques and tips for the home
kitchen, and professional presentation.
• Preparations will be of a complexity that will be welcoming to cooks of all knowledge levels.
• The community can look forward to special classes that feature guest chefs and food and wine
experts.
• NEW- Dinner Parties in your home