www.wineandculinary.com
Charlottesville Wine & Culinary 434-974-7444
© 2016 Charlottesville Wine & Culinary - All Rights Reserved.
COMMUNITY COOKING CLASSES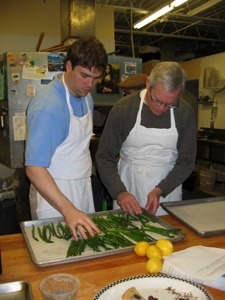 Terre Sisson of Charlottesville Wine & Culinary and Jim Winecoff of Mona Lisa Pasta have teamed up to bring community cooking classes to the Charlottesville area.
Come..learn..taste..enjoy yourself in a relaxed environment. Upon arrival you will be served a light appetizer to take the edge off your hunger. A light meal of all the savory preparations will be served along with a complimentary beverage.
Jim Winecoff and Terre Sisson present classes geared to the home chef who wants to enjoy cooking more. We focus on fine home cooking techniques and timesaving tips with a gourmet flair.
Call us now at 434-295-2494 to reserve your space.
Classes are held at Mona Lisa Pasta, 921 Preston Avenue.
A light meal of the prepared dishes is served along with a complimentary beverage.
Upcoming Classes | Mona Lisa Pasta
SUMMER 2018
August 23, 2018 Thursday 7pm $68 Participation
CORN, SCALLOPS & PANNA COTTA
Warm Corn Soup with Shitake & Shrimp
Seared Scallops with Fresh Tomato & Pesto
Panna Cotta / Blackberry Sauce
We'll cut corn from the cob to create this delicious soup which is served warm topped with shitake & shrimp. Seared Scallops will be nestled into roasted tomatoes that are bedded into a smear of pesto. Panna Cotta, an always refreshing dessert plays nicely with flavor and color against the boozy blackberry sauce.
September 26, 2018 Wednesday 7pm $68 Participation
FRIED CHICKEN SANDWICH
Layered Late Summer Salad
Pan Fried Chicken Sandwich
Any Berry Yogurt Cake
Individual layered salads are visually exciting and taste fantastic. We'll make "The Best" home-style crispy flavorful chicken sandwich on a soft bun. What better to have in your cooking repertoire than a moist delicious cake that can be made with any berries and is not a tome consumiing ordeal.
October 18, 2018 Thursday 7pm $68 Participation
CAST IRON COOKING
Iron Toasted Brie & Fig Sandwiches
Cast Iron Pork Chop / Wine Braised Vegetables
Texas Chocolate Skillet Cake
This class is totally about the joys of cast iron cooking. We'll cover types of cookware, seasoning, care, storing, using, and why. We'll also make some darn good food to aid in the understanding of these awesome tools.
DETAILS
• Classes will be held at Mona Lisa Pasta 921 Preston Avenue Charlottesville, VA
• Class duration will be 2 to 3 hours.
• Classes are light participation format unless otherwise noted.
• Class reservations are accepted with full payment.
• Credit card information is required for phone reservations.
• Payment by check or cash can be made at Mona Lisa Pasta or via mail.
• We reserve the right to cancel any class due to insufficient enrollment. We will notify you, then
refund the fee or apply it to another class as you so choose.
• Class cancellations must be made at least two days prior to the scheduled date to receive a
refund of the class fee.
• The focus of the classes will be home cooking with gourmet flair.
• Topics will be geared to easily obtainable ingredients, techniques and tips for the home
kitchen, and professional presentation.
• Preparations will be of a complexity that will be welcoming to cooks of all knowledge levels.
• The community can look forward to special classes that feature guest chefs and food and wine
experts.
• NEW- Dinner Parties in your home