www.wineandculinary.com
Charlottesville Wine & Culinary 434-974-7444
© 2016 Charlottesville Wine & Culinary - All Rights Reserved.
COMMUNITY COOKING CLASSES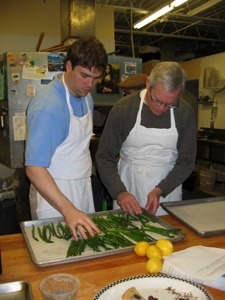 Terre Sisson of Charlottesville Wine & Culinary and Jim Winecoff of Mona Lisa Pasta have teamed up to bring community cooking classes to the Charlottesville area.
Come..learn..taste..enjoy yourself in a relaxed environment. Upon arrival you will be served a light appetizer to take the edge off your hunger. A light meal of all the savory preparations will be served along with a complimentary beverage.
Jim Winecoff and Terre Sisson present classes geared to the home chef who wants to enjoy cooking more. We focus on fine home cooking techniques and timesaving tips with a gourmet flair.
Call us now at 434-295-2494 to reserve your space.
Classes are held at Mona Lisa Pasta, 921 Preston Avenue.
A light meal of the prepared dishes is served along with a complimentary beverage.
Upcoming Classes | Mona Lisa Pasta
SPRING 2018
March 22, 2018 Thursday 7pm $68 Participation
COMFORT & CURING
Terre's Chicken Cure-All
Bone Broth Beef Vegetable Soup
Carrot Ginger Soup
This class focuses on dishes that comfort and heal. If you've ever wanted to make something for a friend or loved one who's a bit" under the weather" these recipes can help you show your love. Or if you are wanting to add some more comfort dishes to your recipe box…
April 11, 2018 Wednesday 7pm $68 Participation
SNAPPY SPRING
Chicken Skewers / Spicy Peanut Sauce
Snapper, Shrimp & Leek Pot Pies
Dark Chocolate & Dulce de Leche Puddings
Chicken with a delish spicy peanut sauce is always going to bring a smile! We'll make individual pot pies with a hot water crust seafood and leeks. It's all about the individual – these delicious puddings are also made in single serving ramekins.
April 26, 2018 Thursday 7pm $68 Participation
PIEMONTESE PASTA
Italy's Piemontese Egg Pasta
Tejerin with Tomato Ragu
Agnolotti with Ricotta & Spinach / Sage Butter
In this very hands on class we'll make pasta in the classic Northern Italian manner, then create 2 traditional dishes with the pasta. Tejerin is very thinly cut pasta ribbons usually served in a tomato ragu. Agnolotti, a Northern Italian speciality is a hand pinched ravioli style filled pasta.
May 14, 2018 Monday 7pm $68 Participation
MAKING RICOTTTA
Spinach Ricotta Dumplings / Tomato Salsa
Sesame Crusted Salmon / Pickled Diakon
Portuguese Custard Tarts with Raspberries
We'll learn to make fresh ricotta, and a delicious appetizer with the resulting cheese. This salmon dish is quick to prepare and perfect for Spring. Everyone loves these tarts that start with purchased puff pastry.
DETAILS
• Classes will be held at Mona Lisa Pasta 921 Preston Avenue Charlottesville, VA
• Class duration will be 2 to 3 hours.
• Classes are light participation format unless otherwise noted.
• Class reservations are accepted with full payment.
• Credit card information is required for phone reservations.
• Payment by check or cash can be made at Mona Lisa Pasta or via mail.
• We reserve the right to cancel any class due to insufficient enrollment. We will notify you, then
refund the fee or apply it to another class as you so choose.
• Class cancellations must be made at least two days prior to the scheduled date to receive a
refund of the class fee.
• The focus of the classes will be home cooking with gourmet flair.
• Topics will be geared to easily obtainable ingredients, techniques and tips for the home
kitchen, and professional presentation.
• Preparations will be of a complexity that will be welcoming to cooks of all knowledge levels.
• The community can look forward to special classes that feature guest chefs and food and wine
experts.
• NEW- Dinner Parties in your home