www.wineandculinary.com
Charlottesville Wine & Culinary 434-974-7444
© 2016 Charlottesville Wine & Culinary - All Rights Reserved.
COMMUNITY COOKING CLASSES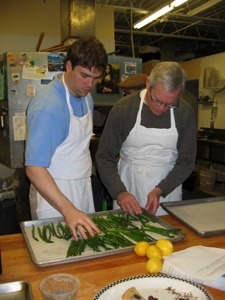 Terre Sisson of Charlottesville Wine & Culinary and Jim Winecoff of Mona Lisa Pasta have teamed up to bring community cooking classes to the Charlottesville area.
Come..learn..taste..enjoy yourself in a relaxed environment. Upon arrival you will be served a light appetizer to take the edge off your hunger. A light meal of all the savory preparations will be served along with a complimentary beverage.
Jim Winecoff and Terre Sisson present classes geared to the home chef who wants to enjoy cooking more. We focus on fine home cooking techniques and timesaving tips with a gourmet flair.
Call us now at 434-295-2494 to reserve your space.
Classes are held at Mona Lisa Pasta, 921 Preston Avenue.
A light meal of the prepared dishes is served along with a complimentary beverage.
Upcoming Classes | Mona Lisa Pasta
SUMMER 2018
July 11, 2018 Wednesday 7pm $68 Participation
SEAFOOD PICCATA
Grilled Green Bean & Burrata Salad
Seafood Piccata
Sweet Corn Gelato
Making the most of Summer's offerings, we'll use garden fresh green beans and tomatoes combined with creamy burrata cheese to make a fantastic salad. Piccata, a classic preparation using lemon and capers gets a new twist with seafood. Jim's sweet corn gelat is refreshing and delicious.
July 31, 2018 Tuesday 7pm $68 Participation
SMALL SUMMER PLATES
Mushroom & Manchego Quesadillas / Red Pepper Sauce
Zucchini Involtini
Gazpacho with Crab Crowns
Herbed Chicken Sliders
Roasted mushrooms and melty cheese between crispy tortillas are great dipped in a spicy roasted pepper sauce. Zucchini, the bounty of Summer, is rolled around fresh tomatoes then baked just enough to crisp the edges. Classic red gazpacho is a Summer refresher and fantastic with heirloom tomatoes. Chicken sliders are an open face treat of herbs and freshly chopped chicken.
August 23, 2018 Thursday 7pm $68 Participation
CORN, SCALLOPS & PANNA COTTA
Warm Corn Soup with Shitake & Shrimp
Seared Scallops with Fresh Tomato & Pesto
Panna Cotta / Blackberry Sauce
We'll cut corn from the cob to create this delicious soup which is served warm topped with shitake & shrimp. Seared Scallops will be nestled into roasted tomatoes that are bedded into a smear of pesto. Panna Cotta, an always refreshing dessert plays nicely with flavor and color against the boozy blackberry sauce.
DETAILS
• Classes will be held at Mona Lisa Pasta 921 Preston Avenue Charlottesville, VA
• Class duration will be 2 to 3 hours.
• Classes are light participation format unless otherwise noted.
• Class reservations are accepted with full payment.
• Credit card information is required for phone reservations.
• Payment by check or cash can be made at Mona Lisa Pasta or via mail.
• We reserve the right to cancel any class due to insufficient enrollment. We will notify you, then
refund the fee or apply it to another class as you so choose.
• Class cancellations must be made at least two days prior to the scheduled date to receive a
refund of the class fee.
• The focus of the classes will be home cooking with gourmet flair.
• Topics will be geared to easily obtainable ingredients, techniques and tips for the home
kitchen, and professional presentation.
• Preparations will be of a complexity that will be welcoming to cooks of all knowledge levels.
• The community can look forward to special classes that feature guest chefs and food and wine
experts.
• NEW- Dinner Parties in your home