www.wineandculinary.com
Charlottesville Wine & Culinary 434-974-7444
© 2016 Charlottesville Wine & Culinary - All Rights Reserved.
WINERY CLASSES / SPECIAL EVENTS
Many Charlottesville Wine & Culinary Events are Held at Picturesque and Interesting Wineries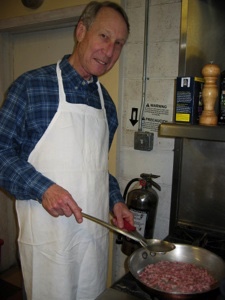 Cooking Classes (see schedules below) - Winery kitchen cooking classes are scheduled regularly at First Colony Winery in the rolling hills of the Virginia Piedmont. Each class is designed to offer expertise with a different menu and set of cooking secrets that will lead you towards ever-greater confidence in home entertainment. These intimate participation style classes culminate with sitting down to our delicious lunch or dinner, paired with the delightful offerings of the winery's cellar. The camaraderie is effusive as we converse with the vintner while enjoying his and our creations.
Gift certificates are always available.
Special Events with a Class Motif provide an opportunity for the creation of an active, entertaining, and memorable occasion to celebrate your special event. Wedding Events - let the girls get away to have some fun (what the heck, bring along the boys, they may not always admit it but they have fun cooking too!)
Corporate Team Building - Seeing your coworkers (yes, the bosses are included!) wearing aprons and up to their elbows in culinary creation (followed with great food and wine indulgence) can't help but to raise the morale!
Parties Too Large for the Home - What a great way to enjoy a larger group of your friends! The romance and mystique of a winery joined with the fun and excitement of great food and wine make for an activity that everyone will enjoy. It doesn't get any better than this!
Gift Certificates Available
Charlottesville Wine & Culinary 434-974-7444
Upcoming Classes | First Colony Winery
SUMMER 2018
July 8, 2018 Sunday 11am-2pm $68 Light Participation
JAMAICAN JERK CHICKEN
Broccoli & Roasted Mushrooms
Jerk Chicken / Coconut Rice / Mango Salsa
Strawberry Shortcake Bars
Broccoli that is steamed to bright perfection combines well with juicy vinaigrette roasted mushrooms. We'll rub chicken with a very Jamaican blend of herbs and spices, throw it on the grill, then slice it atop coconut-scented rice and adorn it with salsa. We end the feast with strawberries and chocolate.
July 29, 2018 Sunday 11am-2pm $68 Light Participation
IT MUST BE SUMMER
Green Gazpacho / Manchego Toasts
Crab Island Cheesecake
Sauteed Spinach & Tomatoes
Watermelon with Lime Cream
A nice chilled soup of cucumber and avocado starts our journey, then we find a sheesecake full of crab and topped with backfin, which we'll enjoy beside fresh spinach and tomatoes. We come to rest with a plate of cold watermelon topped with a lovely cream.
August 19, 2018 Sunday 11am-2pm $68 Light Participation
SUMMER SUPPER
Herbed Chicken Sliders
Grilled Vegetable Chopped Salad / Chili Shrimp
Peaches & Cream Tart
We'll chop chicken and herbs to create patties that will be served open-face with arugula and Swiss. Our salad is definitely a main course feature topped with red chili grilled shrimp skewers. The peach tart is based upon a recipe from The Grove Park Inn in Ashville.
September 23, 2018 Sunday 11am-2pm $68 Light Participation
MEAT & POTATOES SUMMER STYLE
Three Sisters Summer Salad
Brazilian BBQ Beef Medallions
Curried Potato Salad
Sour Cherry Clafouti
This salad of mini pattypans, green beans & corn is a late Summer charmer. You'll love the nicely seasoned grilled beef that will be delicious alongside potato salad. A simple cherry clafouti topped with amaretto cream and almonds is ethereal.
To make reservations, please call the Winery 434-979-7105 or Terre 434-974-7444
Winery is located just off route 20 (Scottsville Rd)- ten miles south of Charlottesville
RESERVATIONS ARE REQUIRED