www.wineandculinary.com
Charlottesville Wine & Culinary 434-974-7444
© 2016 Charlottesville Wine & Culinary - All Rights Reserved.
WINERY CLASSES / SPECIAL EVENTS
Many Charlottesville Wine & Culinary Events are Held at Picturesque and Interesting Wineries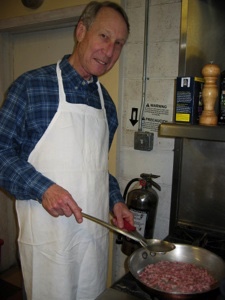 Cooking Classes (see schedules below) - Winery kitchen cooking classes are scheduled regularly at Thatch Winery (formerly, First Colony Winery) in the rolling hills of the Virginia Piedmont. Each class is designed to offer expertise with a different menu and set of cooking secrets that will lead you towards ever-greater confidence in home entertainment. These intimate participation style classes culminate with sitting down to our delicious lunch or dinner, paired with the delightful offerings of the winery's cellar. The camaraderie is effusive as we converse with the vintner while enjoying his and our creations.
Gift certificates are always available.
Special Events with a Class Motif provide an opportunity for the creation of an active, entertaining, and memorable occasion to celebrate your special event; maybe a birthday or anniversary.
Wedding Events - A private cooking class can be a delightful addition to a Bachelor or Bachelorette celebration. We can get creative with a plan to fit your style and schedule.
Corporate Team Building - Seeing your coworkers (yes, the bosses are included!) wearing aprons and up to their elbows in culinary creation (followed with great food and wine indulgence) can't help but to raise the morale!
Parties Too Large for the Home - What a great way to enjoy a larger group of your friends! The romance and mystique of a winery joined with the fun and excitement of great food and wine make for an activity that everyone will enjoy. It doesn't get any better than this!
Gift Certificates Available
Charlottesville Wine & Culinary 434-974-7444
Upcoming Classes | THATCH Winery (formerly, First Colony Winery)
Fall 2019
November 17, 2019 Sunday 11am-2pm $68 Light Participation
MODERN CLASSICS
Smoked Salmon Chowder
Pork Medallions / Asian Slaw
Chocolate Mousse Tart
Classic Salmon Chowder gets a modern update with Northwest Smoked Salmon. Pork tenderloin will be ramped up with a nicely spicy deeply seasoned sauce and tips for mouth-watering deliciousness. The presentation with a perky slaw is culinary eye-candy. Classic favorite chocolate mousse served tart style combines smooth and crunch for a fantastic dessert.
Call Now To Reserve Your Spot
or
Sign Up On-Line: Thatch
December 8, 2019 Sunday 11am-2pm $68 Light Participation
WINE BRAISED CHICKEN
Quinoa Avocado Salad / Lemon Vinaigrette
Wine Braised Chicken & Shallots
Cranberry Ginger Buckle
The textures of red quinoa and avocado play very well against each other and when combined with a citrusy vinaigrette make for a fantastic starter or side. Wine braised chicken is a take on coq au vin but is a lot easier and faster for the cook with equal or maybe superior flavor. Buckle, a fruit based cake with a crumbly topping can serve as a breakfast treat, afternoon tea delight, or casual dessert. This one embraces the flavors of Fall.
Call Now To Reserve Your Spot
or
Sign Up On-Line: Thatch
To make reservations, please call the Winery 434-979-7105 or Terre 434-974-7444
Winery is located just off route 20 (Scottsville Rd)- ten miles south of Charlottesville
RESERVATIONS ARE REQUIRED