www.wineandculinary.com
Charlottesville Wine & Culinary 434-974-7444
© 2016 Charlottesville Wine & Culinary - All Rights Reserved.
WINERY CLASSES / SPECIAL EVENTS
Many Charlottesville Wine & Culinary Events are Held at Picturesque and Interesting Wineries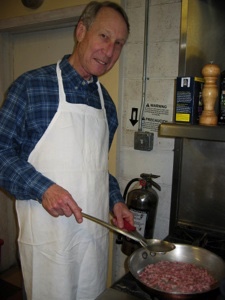 Cooking Classes (see schedules below) - Winery kitchen cooking classes are scheduled regularly at First Colony Winery in the rolling hills of the Virginia Piedmont. Each class is designed to offer expertise with a different menu and set of cooking secrets that will lead you towards ever-greater confidence in home entertainment. These intimate participation style classes culminate with sitting down to our delicious lunch or dinner, paired with the delightful offerings of the winery's cellar. The camaraderie is effusive as we converse with the vintner while enjoying his and our creations.
Gift certificates are always available.
Special Events with a Class Motif provide an opportunity for the creation of an active, entertaining, and memorable occasion to celebrate your special event. Wedding Events - let the girls get away to have some fun (what the heck, bring along the boys, they may not always admit it but they have fun cooking too!)
Corporate Team Building - Seeing your coworkers (yes, the bosses are included!) wearing aprons and up to their elbows in culinary creation (followed with great food and wine indulgence) can't help but to raise the morale!
Parties Too Large for the Home - What a great way to enjoy a larger group of your friends! The romance and mystique of a winery joined with the fun and excitement of great food and wine make for an activity that everyone will enjoy. It doesn't get any better than this!
Gift Certificates Available
Charlottesville Wine & Culinary 434-974-7444
Upcoming Classes | First Colony Winery
Winter 2018
January 21, 2018 Sunday 11am-2pm $68 Light Participation
ITALIAN WINTER MEAL
Arugula & Radicchio Salad
Lentils with Greens & Sausages
Pine Nut Tart
A beautiful winter salad with eggs and pancetta is tossed with seasonings. Lentils, greens, and sausages are pure winter soul food. The tart is light, rich, and satisfying.
February 11, 2018 Sunday 11am-2pm $68 Light Participation
SALMON FILLED PASTRY FISH
Apple & Fennel Salad / Salted Caramelized Pecans
Salmon Filled Puff Pastry Fish
Potatoes with Crumbs
Almond Pistachio Truffle
The presentation and flavor bridges in the salad are truly wonderful. We will create a fish of puff pastry that is filled with salmon! This is a spectacular dish to make and present - perfect for Valentine's. What better way to finish a meal than chocolate! Come as couples or singles to this pre-Valentine class.
March 4, 2018 Sunday 11am-2pm $68 Light Participation
ORECCHIETTE & SAUSAGE
Butter Lettuce & Egg Salad / Malt Vinegar Dressing
Orecchiette with Sausage & Fennel
Portuguese Custard Tarts
This simple elegant salad is easy and delicious. The flavors of pasta, sausage, and fresh fennel combine for a fantastic "chase away the winter blues" meal. The individual tarts, which are wonderful served with fresh fruits, are sure to become favorites of family and friends.
March 25, 2018 Sunday 11am-2pm $68 Light Participation
MUSHROOM DELIGHT
Butternut Chorizo & Kale Fritatta
Portabella Yukon Mash Stack with Morel Sauce
Pineapple Flan
An oven baked fritatta is a perfect way to begin an early Spring meal. We'll use dried morel mushrooms to make an incredible sauce, but as soon as morel season gets here you'll be ready to use fresh local mushrooms for this very delicious dish. This make-ahead dessert highlights the flavor of pineapple with the caramelized sugar sauce.
To make reservations, please call the Winery 434-979-7105 or Terre 434-974-7444
Winery is located just off route 20 (Scottsville Rd)- ten miles south of Charlottesville
RESERVATIONS ARE REQUIRED