www.wineandculinary.com
Charlottesville Wine & Culinary 434-974-7444
© 2016 Charlottesville Wine & Culinary - All Rights Reserved.
WINERY CLASSES / SPECIAL EVENTS
Many Charlottesville Wine & Culinary Events are Held at Picturesque and Interesting Wineries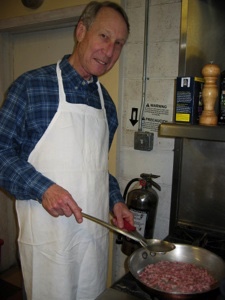 Cooking Classes (see schedules below) - Winery kitchen cooking classes are scheduled regularly at First Colony Winery in the rolling hills of the Virginia Piedmont. Each class is designed to offer expertise with a different menu and set of cooking secrets that will lead you towards ever-greater confidence in home entertainment. These intimate participation style classes culminate with sitting down to our delicious lunch or dinner, paired with the delightful offerings of the winery's cellar. The camaraderie is effusive as we converse with the vintner while enjoying his and our creations.
Gift certificates are always available.
Special Events with a Class Motif provide an opportunity for the creation of an active, entertaining, and memorable occasion to celebrate your special event. Wedding Events - let the girls get away to have some fun (what the heck, bring along the boys, they may not always admit it but they have fun cooking too!)
Corporate Team Building - Seeing your coworkers (yes, the bosses are included!) wearing aprons and up to their elbows in culinary creation (followed with great food and wine indulgence) can't help but to raise the morale!
Parties Too Large for the Home - What a great way to enjoy a larger group of your friends! The romance and mystique of a winery joined with the fun and excitement of great food and wine make for an activity that everyone will enjoy. It doesn't get any better than this!
Gift Certificates Available
Charlottesville Wine & Culinary 434-974-7444
Upcoming Classes | First Colony Winery
Spring 2018
April 15, 2018 Sunday 11am-2pm $68 Light Participation
DUMPLINGS
Lamb Dumplings / Spicy Salsa
Pork & Corn Dumplings / Cilantro Cream
Chilled Shrimp with Ponzu Sauce
Mango Granita
Dumplings, which are always a fun to make and serve are a great way to get your guests involved and interacting. We'll focus on open face dumplings with easy fantastic sauces. Mango granita, an icy dessert, is a wonderful way to cool things down.
April 29, 2018 Sunday 11am-2pm $68 Light Participation
JAMBALAYA
Avocado & Orange Salad / Cilantro Lime Dressing
Creole Jambalaya / Creole Sauce
White Chocolate Raspberry Cheesecake
A refreshing Spring salad leads the way to Terre's incredible jambalaya. You'll love the consistency of the dish and the secret ingredient that pulls it all together. White chocolate- raspberries- cheesecake- need we say more?
May 20, 2018 Sunday 11am-2pm $68 Light Participation
SPECIAL SPRING LUNCH
Lamb Satay / Peanut Sauce
Sausage, Shrimp & Collard Soup
Sweet Potato Cornbread
Strawberries Romanoff
We'll use ground lamb in the grilled satays that are finished with a spicy peanut sauce. The soup, which is served warm, not hot is a really great Spring dish and pairs perfectly with a sweet and beautiful take on cornbread. Strawberries Romanoff may be a classic but the deliciousness of the dish is very 2018!
June 3, 2018 Sunday 11am-2pm $68 Light Participation
SPRING INTO SUMMER
Salmon Tartare / Potato Crisps
Fettucini & Tomato with Avocado Pesto
Pina Colada Pie
We'll make some delicious crisp potato chips using our oven and some garlic oil, top them with fresh sushi grade salmon, and enjoy with a glass of wine! Avocado and pesto together, what could be better - pasta please.  This fantastic meatless entree is perfect for Summer meals. An easy no-bake pie with tropical fruits and coconut rum is as delicious as it is beautiful.
To make reservations, please call the Winery 434-979-7105 or Terre 434-974-7444
Winery is located just off route 20 (Scottsville Rd)- ten miles south of Charlottesville
RESERVATIONS ARE REQUIRED