www.wineandculinary.com
Charlottesville Wine & Culinary 434-974-7444
© 2016 Charlottesville Wine & Culinary - All Rights Reserved.
WINERY CLASSES / SPECIAL EVENTS
Many Charlottesville Wine & Culinary Events are Held at Picturesque and Interesting Wineries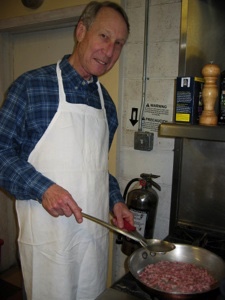 Cooking Classes (see schedules below) - Winery kitchen cooking classes are scheduled regularly at First Colony Winery in the rolling hills of the Virginia Piedmont. Each class is designed to offer expertise with a different menu and set of cooking secrets that will lead you towards ever-greater confidence in home entertainment. These intimate participation style classes culminate with sitting down to our delicious lunch or dinner, paired with the delightful offerings of the winery's cellar. The camaraderie is effusive as we converse with the vintner while enjoying his and our creations.
Gift certificates are always available.
Special Events with a Class Motif provide an opportunity for the creation of an active, entertaining, and memorable occasion to celebrate your special event. Wedding Events - let the girls get away to have some fun (what the heck, bring along the boys, they may not always admit it but they have fun cooking too!)
Corporate Team Building - Seeing your coworkers (yes, the bosses are included!) wearing aprons and up to their elbows in culinary creation (followed with great food and wine indulgence) can't help but to raise the morale!
Parties Too Large for the Home - What a great way to enjoy a larger group of your friends! The romance and mystique of a winery joined with the fun and excitement of great food and wine make for an activity that everyone will enjoy. It doesn't get any better than this!
Gift Certificates Available
Charlottesville Wine & Culinary 434-974-7444
Upcoming Classes | First Colony Winery
Summer 2017
May 21, 2017 Sunday 11am-2pm $68 Light Participation
SPRING CARBONARA
Smoked Seared Scallops / Celery Root Puree
Ham & Asparagus Carbonara
Rhubarb Tart
Perfectly seared scallops are achievable in a home kitchen. They'll be paired with silky celery root puree for an epicurean delight. Carbonara when prepared properly is a satiny pasta wonder, this one has asparagus to bring some Spring to the plate. The meal is nicely rounded with a tart sweet pastry that comes together quickly with a crumb crust.
June 25, 2017 Sunday 11am-2pm $68 Light Participation
GRILLED LUNCH
Prosciutto Wrapped Green Beans
Tea Brined Maple Glazed Grilled Chicken
Grilled Potato Salad / White Truffle Vinaigrette
Grilled Angelfood with Strawberry Compote
This grilled chicken will surely become a family favorite with it's complex flavors. The entire menu graces the grill, caramelizing is king here!
July 9, 2017 Sunday 11am-2pm $68 Light Participation
EASY BREEZY SUMMER SUPPER
Smoked Goat Cheese Salad w/ Sweet Cheeries
Country Croque Monsieur w/ Mornay Sauce
Blackberry Sour Cream Pie
We'll lightly smoke some fresh goat cheese for a new flavor sensation that pairs well with the fresh sweet cheeries of the season. We'll give a new twist to a classic sandwich! This pie is a personal favorite of Chef Terre.
August 20, 2017 Sunday 11am-2pm $68 Light Participation
LOCAL & LOVIN IT
Fresh Tuna & White Bean Salad
Pan Fried Crispy Juicy Fried Chicken
Tomatoes Caprese
Limoncello Fruit Salad
August just may be the best fresh local food month of the year. We'll make the most of it with loads of fresh fruits and vegetables and some darn good fried chicken.
To make reservations, please call the Winery 434-979-7105 or Terre 434-974-7444
Winery is located just off route 20 (Scottsville Rd)- ten miles south of Charlottesville
RESERVATIONS ARE REQUIRED