www.wineandculinary.com
Charlottesville Wine & Culinary 434-974-7444
© 2016 Charlottesville Wine & Culinary - All Rights Reserved.
WINERY CLASSES / SPECIAL EVENTS
Many Charlottesville Wine & Culinary Events are Held at Picturesque and Interesting Wineries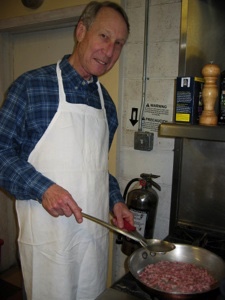 Cooking Classes (see schedules below) - Winery kitchen cooking classes are scheduled regularly at First Colony Winery in the rolling hills of the Virginia Piedmont. Each class is designed to offer expertise with a different menu and set of cooking secrets that will lead you towards ever-greater confidence in home entertainment. These intimate participation style classes culminate with sitting down to our delicious lunch or dinner, paired with the delightful offerings of the winery's cellar. The camaraderie is effusive as we converse with the vintner while enjoying his and our creations.
Gift certificates are always available.
Special Events with a Class Motif provide an opportunity for the creation of an active, entertaining, and memorable occasion to celebrate your special event. Wedding Events - let the girls get away to have some fun (what the heck, bring along the boys, they may not always admit it but they have fun cooking too!)
Corporate Team Building - Seeing your coworkers (yes, the bosses are included!) wearing aprons and up to their elbows in culinary creation (followed with great food and wine indulgence) can't help but to raise the morale!
Parties Too Large for the Home - What a great way to enjoy a larger group of your friends! The romance and mystique of a winery joined with the fun and excitement of great food and wine make for an activity that everyone will enjoy. It doesn't get any better than this!
Gift Certificates Available
Charlottesville Wine & Culinary 434-974-7444
Upcoming Classes | First Colony Winery
Fall 2017
October 8, 2017 Sunday 11am-2pm $68 Light Participation
ITALIAN RISOTTO
Grilled Sicilian Beef Rolls
Risotto with Butternut & Fontina
Granita di Caffe
These little beef rolls stuffed with pine nuts and raisins then grilled over flame are a fantastic opener. A nice creamy risotto brimming with butternut and melted Fontina definitely lays out the welcome mat for Fall! The grande finale, is an almost frozen espresso with the bitter edges sweetened and softened with whipped cream!
October 29, 2017 Sunday 11am-2pm $68 Light Participation
MAKING GREAT SPAGHETTI
Insalata Bianca
Bolognese Sauce / Spaghetti Noodles
Leontine's Apple Cake / Cinnamon Cream
We'll make an all white salad of fennel and endive, with a white wine vinaigrette. The bolognese sauce will be oh so nice paired with fresh Mona Lisa Pasta. The apple cake is wonderful and a breeze to make.
November 26, 2017 Sunday 11am-2pm $68 Light Participation
CHICKEN & BISCOTTI
Mushroom Soup
Chicken Scallops with Red Pepper & Leeks
Walnut Almond Biscotti
Delicate mushrooms in a woodsy broth served over crostini will have you salivating for more. The chicken scallops marinated in herbs have a total prep and cooking time of less than 20 minutes, the topping comes together in about 15 minutes yet the flavor is large. Biscotti means twice cooked, the secret to these crisp biscuits.
January 21, 2018 Sunday 11am-2pm $68 Light Participation
ITALIAN WINTER MEAL
Arugula & Radicchio Salad
Lentils with Greens & Sausages
Pine Nut Tart
A beautiful winter salad with eggs and pancetta is tossed with seasonings. Lentils, greens, and sausages are pure winter soul food. The tart is light, rich, and satisfying.
To make reservations, please call the Winery 434-979-7105 or Terre 434-974-7444
Winery is located just off route 20 (Scottsville Rd)- ten miles south of Charlottesville
RESERVATIONS ARE REQUIRED